Magic Family Shows at the Fairfax Festival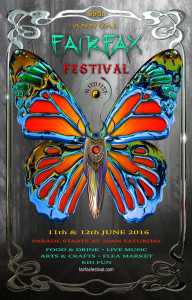 Marin's' #1 Kids Entertainers Magic Circus presents Magic family shows at the Fairfax Festival,
Ball Field Stage:
6/11, 12 p.m. show , MC all day
6/12, 12 p.m. & 4 p.m. shows, MC all day
Benny the Magician and Bebe the impish Clown with their award-winning fanciful magic and funny theatrical comedy!   Enjoy great audience participation throughout the show and be mesmerized by fun illusions like the "child floating in air", water &  balloon magic, flower production, comedy predictions. These Magic Family shows are ideal for the entire family.
Children and families will love the ongoing games and activities all around the Contratti Park Ball Field, away from the hubbub of the Main Stage. There are kid-friendly snacks and refreshments, and a stage of fun shows from noon till day's end (scroll down for Stage schedule). There are plenty of magic, zany, fun acts and activities to entertain and inspire, and every year sees new additions – see you there!
he 39th annual Fairfax Festival, Marin's premier community celebration. The Fairfax Festival embodies the values that are dear to all Marinites: community, family, social responsibility, sustainability and, of course, a great party.
Come hear great local music at three stages, shop for crafts and flea market treasures, enjoy fresh, wholesome food, beer, organic wine tasting, entertain the kids in our expanded children's area, and ponder social and environmental issues at the Ecofest. This year we also have US PureWater filtered water stands so you can refill your water containers.
The Festival offers something for everyone who attends. The Festival is put on by a volunteers group of your friends and neighbors. We take special pride in being a 100% volunteer group (no outside promoter needed). So come enjoy our hometown event, and be sure to support your local craftspeople, artists, flea marketers, breweries, food purveyors, and shows and activities for children all day. Featured are the Magic Circus Magic family shows.