See us at the Fairfax Festival 2017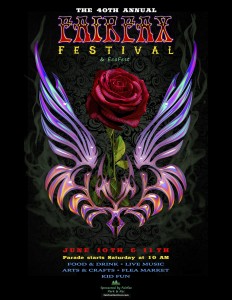 See the Magic Circus perform at the Fairfax Festival June 10th & 11th 2017
Ball Field Fun
Entertainment all day for all ages on the Contratti Park Ball Field…
STAGE – SATURDAY & SUNDAY
12:00 – 12:45
Magic Circus Family Show: Benny the Magician and Bebe the impish clown with their award-winning fanciful magic and funny theatrical comedy.

We will MC on the stage all day with magical entertainment.

SUNDAY

12 p.m. and 4 p.m. shows

Magic Circus: Enjoy great audience participation throughout the show and be mesmerized by fun illusions like the "child floating in air", water & balloon magic, flower production, optical illusions. Performances are ideal for the entire family.

Chidren and families will love the ongoing games and activities all around the Contratti Park Ball Field, away from the hubbub of the Main Stage. There are kid-friendly snacks and refreshments, and a stage of fun shows from noon till day's end (scroll down for Stage schedule). There are plenty of magic, zany, fun acts and activities to entertain and inspire, and every year sees new additions –

See you at the Fairfax Festival 2017!